Born in Livorno in 1969, Sergio starts the study of the violin as a young boy at his native city Conservatoire 'P. Mascagni'. At this same school he graduates when he's twenty under the guidance of Maestro Enrico Sciarra, winning at his graduation a scholarship in memory of Maestro Cesare Chiti.
After his graduation he continues his studies at the 'Scuola di Musica' of Fiesole, where for two years he takes the chamber music classes of Maestro Piero Farulli and of the 'Trio di Trieste'. He also participates at Fiesole's chamber orchestra as first violin.
In 1991, after an audition at Fiesole, Sergio follows Giuseppe Prencipe's classes that prepare him for a first violin role, and with whom he studies all the most important orchestral solos. That same year, he wins simultaneously two auditions for violin: at the Toscanini of Parma orchestra, and at the 'Radiotelevisione Italiana' (RAI) orchestra of Rome, where he will work for two years.
Furthermore, he takes part at the lessons of Maestro Andrea Tacchi which take place at the 'Instituto Mascagni', where he also plays as first violin and soloist. He also follows the lessons of Maestro Thomas Brandis, first violin of the 'Berliner Philarmoniker', in Milan. He then continues his studies with maestro Antonio Salvatore in Rome. From 1991 to 2006 he teaches violin at the Theatrical School of Rosignano Solvay.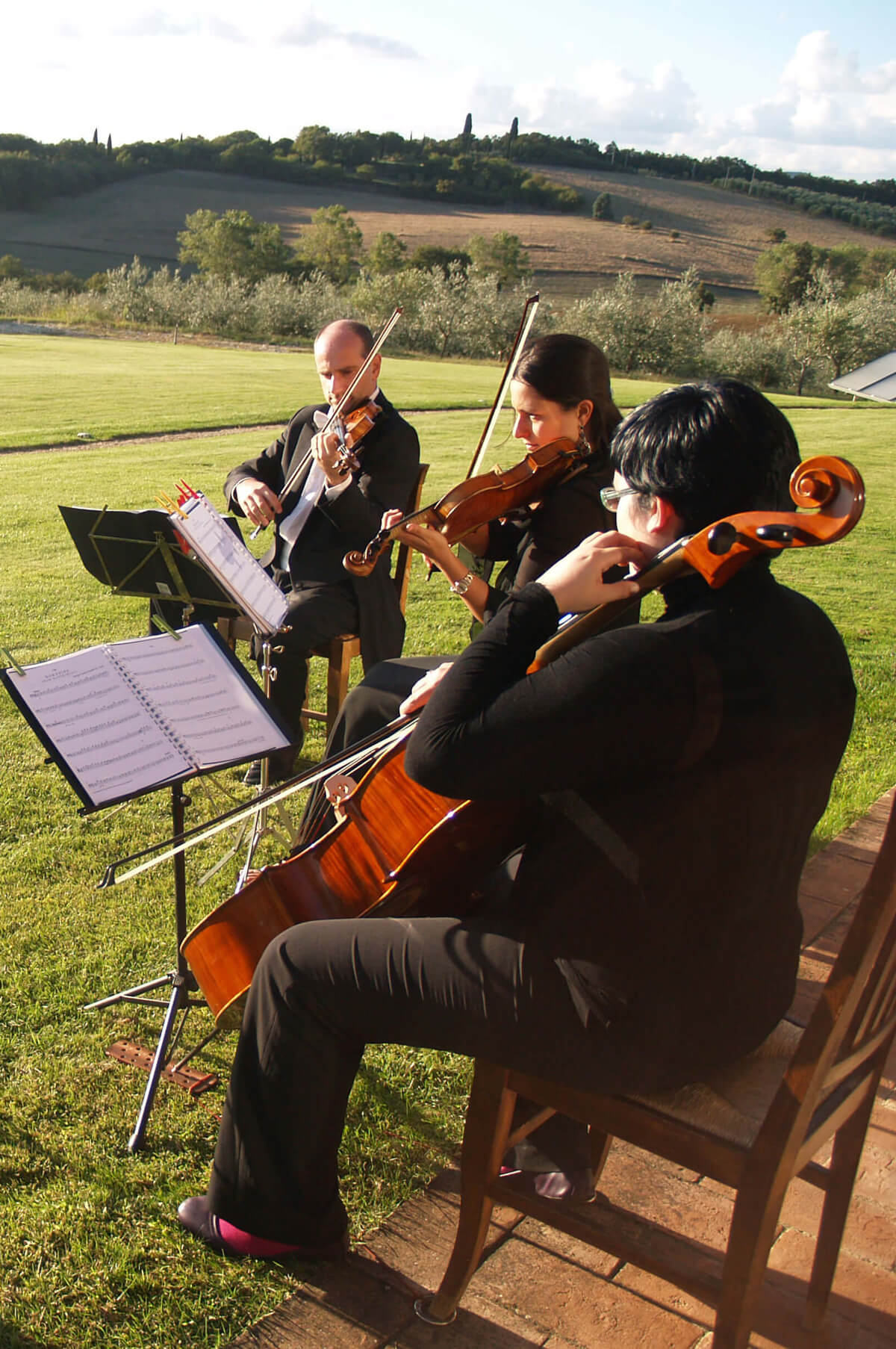 From 1992 to 2002 he is the marketing manager of 'Sax Promotions', with the role of producing, organising and managing exhibitions and setting the framework of productions for tourism. He also had the role of organising concerts for other local institutions, mostly pop music: he sets up concerts with Eros Ramazzotti at Livorno and Montecatini, with Edoardo Bennato, Vasco Rossi, Antonello Venditti, Paolo Vallesi, Jovanotti, Riccardo Cocciante, Elio e le storie tese, Biagio Antonacci, recital Beppe Grillo, Marco Masini, "883", Ligabue. Articolo 31, Morandi, Pooh , ….
For a few years he is part of the 'Cierre' organisation for the television channel RAI UNO. It has the role of organising the programmes of Pippo Baudo.
In 1993 he wins the violin competition of the 'Maggio Musicale Fiorentino' orchestra, where he still works at present.
In 2007 he makes a dvd as solo violin of P. Mascagni's Mass in Gloria, for the coral P. Mascagni, with the help of the Cassa di Risparmio of Livorno Foundation.
In 2009 he is part of the 'All Stars Orchestra', an ensemble made up from musicians from the world's most important orchestras. This orchestra accompanied Young Students for a concert at the Arena of Verona, before 20,000 spectators.
With the 'Maggio Musicale Orchestra' he makes CDs for eminent recording companies, he plays with famous orchestra directors and goes on tours all around the world.