Wedding Music with the Painter.
Wedding Music with painter. In addition to the magic of the String Quartet, painter Massimiliano Luschi will depict a painting that will be gifted to the spouses.

"If you paint, close your eyes and sing."
Pablo Picasso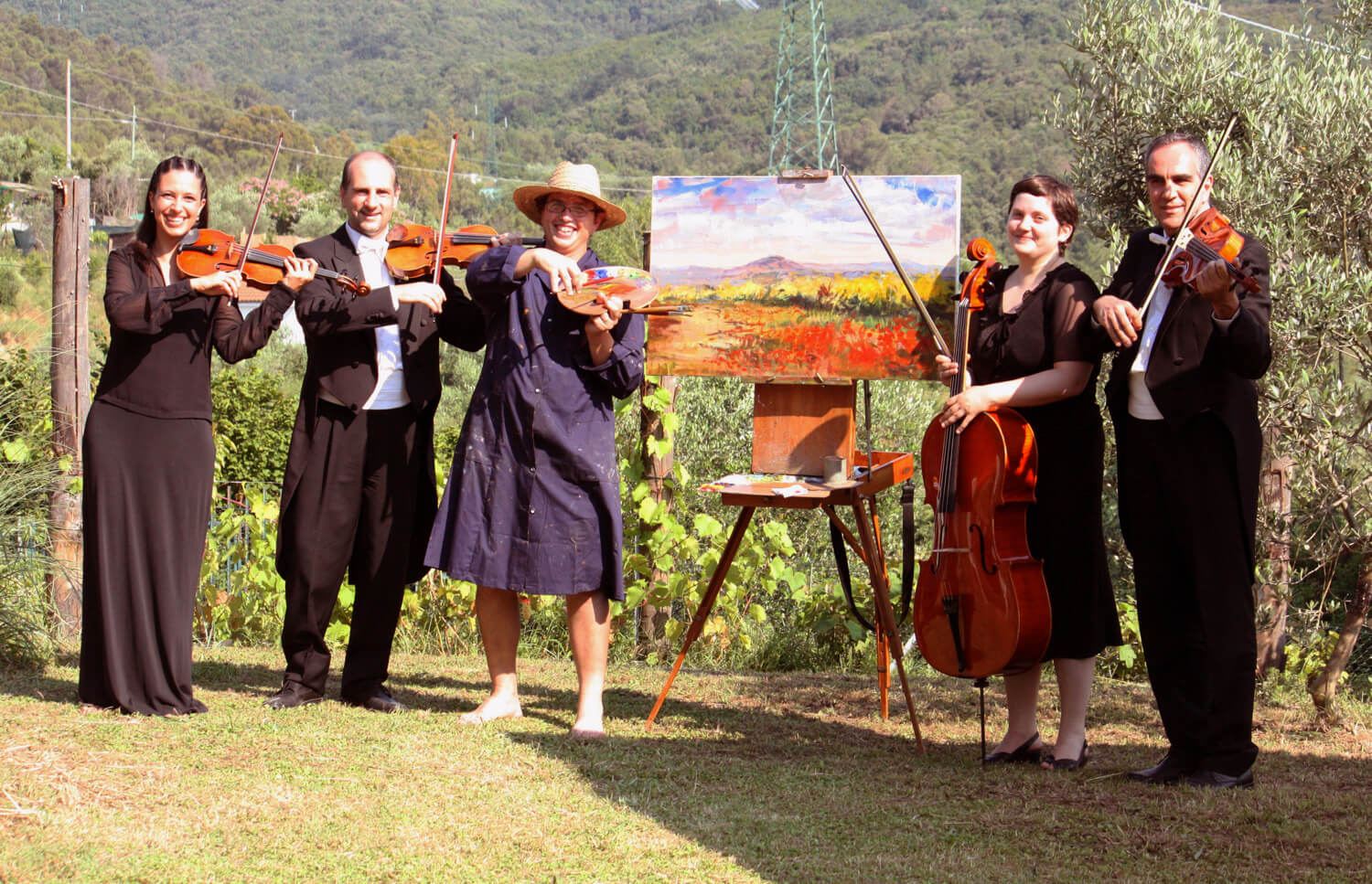 The project "Notes and Colors" was founded in 2010 by 'encounter with the painter Massimiliano Luschi, young and successful figures of the 'art of Livorno.
Hence the 'idea of making visible the intimate moment of the creation of a' work of 'art through a form of expression made up of the enlarged plots of sounds that are revealed through the nuances of color and in which the rhythm of the music beats in the sequence of movements of the brush.
In its first edition, "Notes and Colors" was proposed in concert with great success, but its formula is suitable to be applied to 'internal Receptions, especially to' open.

Our proposal
Choosing "Notes and colors for your wedding you will, in addition to the magic of the string quartet that plays classic tracks and not only the painter Maximilian Luschi that, in real time," to music, paint a picture with the subject and size to be agreed before, and that at the end of 'event will be donated to the spouses in memory of the day.
"Born in Livorno, attend artistic circles since childhood, graduating with merit to 'Institute of Art and find yourself to be a painter is something completely natural.
When Maximilian was born (September 17, 1975), his father Masaniello Luschi is already an established painter, and is in its study that Maxine is passionate to painting, drawing and beginning to mix colors on the palette, listening to lively discussions of art among all goers.Formed against this culture of strong and specific knowledge gained through their studies at a young age Maximilian decided to follow in the footsteps of his father.
Only thirty-two, thanks to the will and love for this profession has already reached a mature enviable technique.Still lifes, seascapes, figures, landscapes: the subjects of his works vary with the seasons and mood.Excellent design, strong and decisive brushwork and colors are so clean that you may live in the work of Massimiliano those scenarios and those atmospheres that are so dear to traditional school Livorno.
If one day decide to cut the umbilical cord that ties him to this tradition, I am sure that will achieve astonishing results: it has all the qualities.
But if this happens, so be it: the baton is firmly in his hands.">/em>

REQUEST A FREE TRIAL
Meet us to let you drive!
From the start, Note a Nozze was born with a certainty: our events would need to stand out because of the high artistic quality. Hence the idea to invite all the spouses who request it to come listen to us, to get to know us and appreciate what we do to understand together the most fitting repertoire for every occasion. All of this with no obligation and at no added cost.