Special Weddings in Tuscany
Musicians for civil and religious weddings:
Violin Organ Harp Guitar Vocal Trio and String Quartet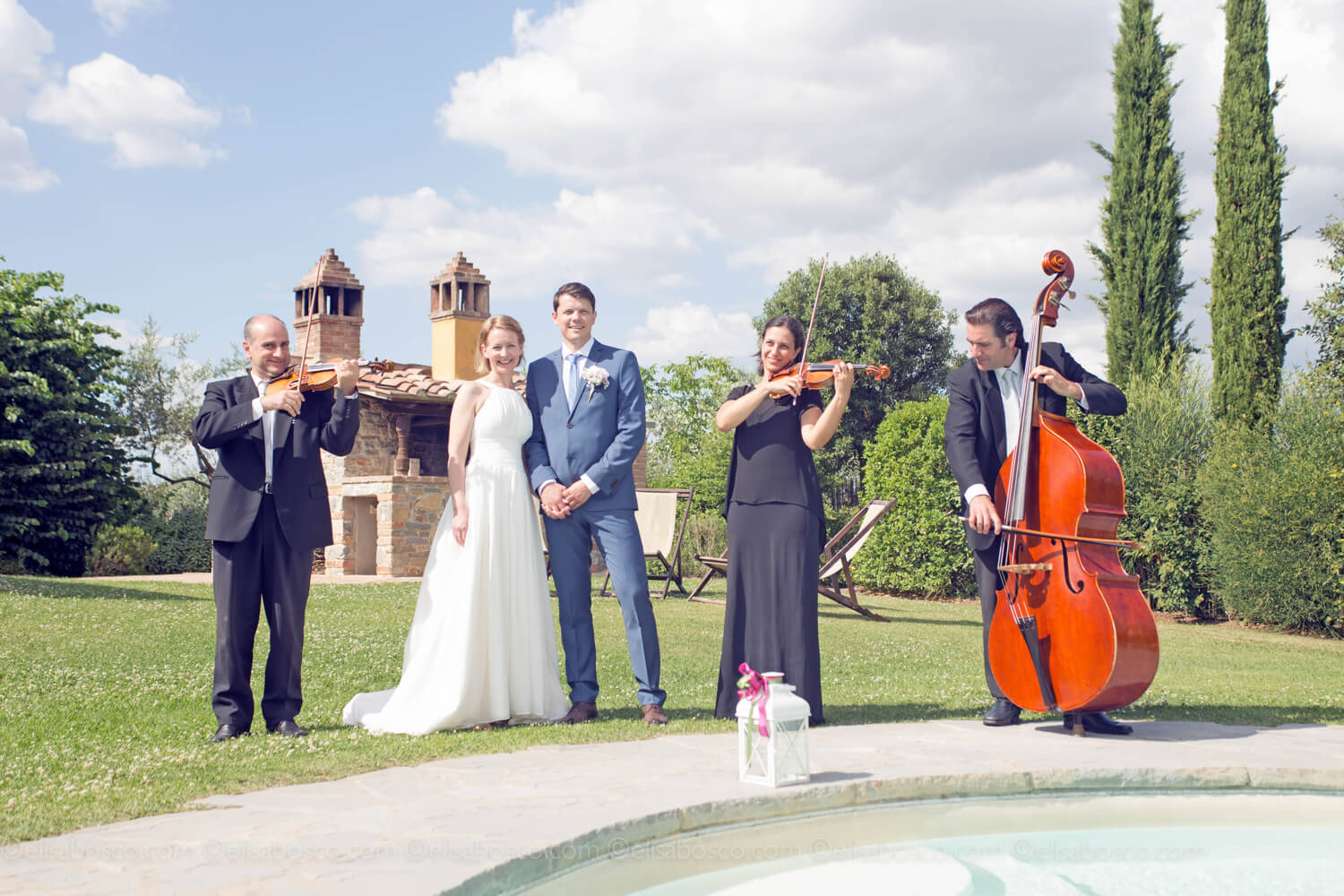 Wedding in church:
The Church ritual is organised in a way that music can emphasize some specific moments.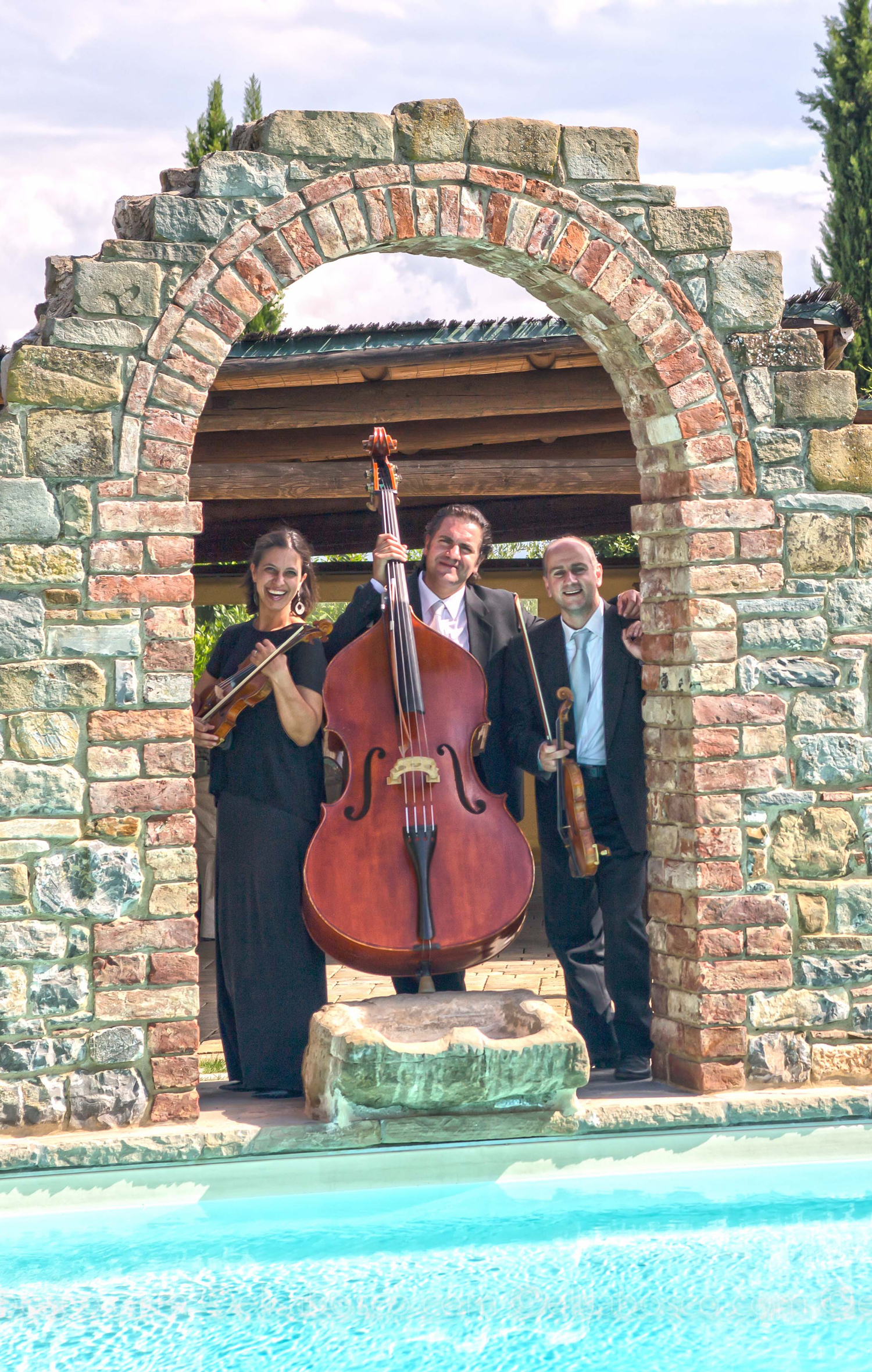 The Entrance:
A musical piece can be played that will follow the bride's steps as she enters the church and walks towards the altar.
Marcia Nuziale di Wagner
Canone di Pachelbel
Ave Maria di Schubert
The Offertory:
For this part, a melodic piece of short or medium length is most appropriate
De Andrè: Ave maria 
Albinoni: Adagio
Frisina: Magnificat
The Communion:
This is a moment of meditation and intimate thanksgiving in which a short piece shares in personal reflection.
Gounod: Ave maria
Schubert: Ave maria
The Signatures:
A joyful piece is usually played here to emphasize the happy moment.
Morricone: medley di colonne sonore
The Exit:
The traditional march or another piece with similar characteristics is most appropriate for a joyous ending.
Bach: Cantata 147
In agreement with the officiant, it will also be possible to add the execution of missing parts of the Mass such as Halleluja, Gospel and Eucharistia, or performing some liturgical songs arranged for the chosen formation.
What we propose
The complexes that better adapt themselves to the church ceremony are the Duo, the Trio and the String Quartet. These are some parameters to help choosing what is better for each occasion:
Sensible Reason:
in a small church a very large Ensemble does not fit. It would take up too much space. Some churches may not have an organ, and others may not have any electric sockets. Such things need to be looked into thoroughly to make a choice that can be practically carried out
Economical Reason:
greater the number of musicians, greater the cost.
Musical Reason:
the most classical formation, the Duo, molds the magical melody of a string instrument- the violin- with the more stately harmonies produced by the organ or the keyboard. To this excellent combination a voice may be added, such as a soprano or a tenor, or the voice may take the melody part of the violin. This is a wonderful way to fully appreciate the most well-known classical tunes. Another solution is to have a guitar or a harp instead of the more traditional keyboard. This allows for the same repertoire to be performed, but makes for a more private and elegant setting. The Trio brings together many different musical tones, and it hints to that perfect balance of different instruments that is really fully reached in the Quartet. The quartet has the same balance between the instruments of a small orchestra. For this reason, the quartet can play a number of pieces and has a very extended repertoire that can't be reproduced with smaller musical groups. We will though be happy to consider any other suggestions that you would like to propose.
Any request for additional types of instrumental training can however be taken into consideration.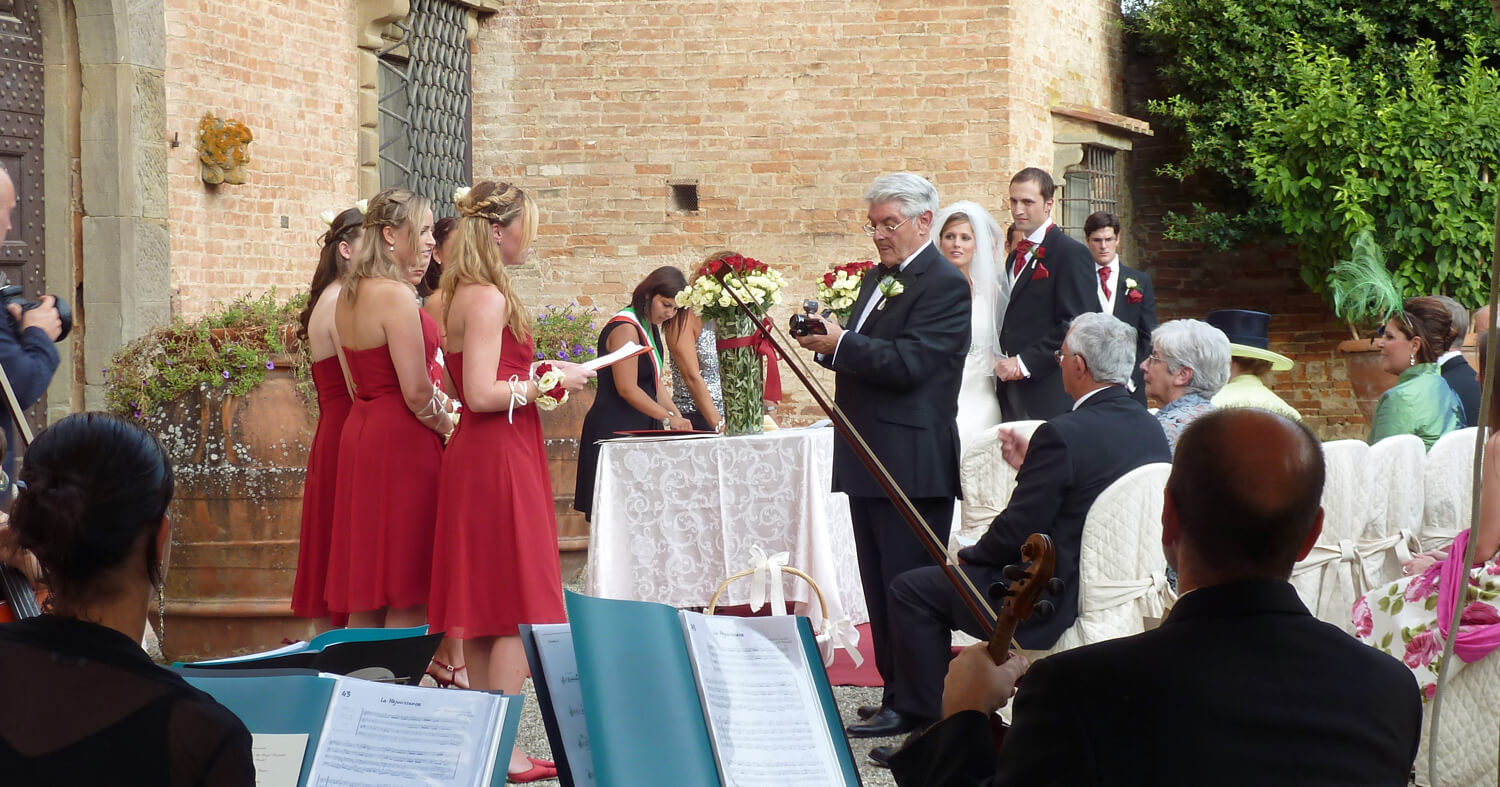 How the ceremony takes place:
The Civil Wedding Ceremony is rather short. It isn't usually any longer than 15-30 min., depending on how the officiant himself manages the service. There is a great allowance to personalise various aspects of the civil ceremony. Poetry or texts may be read, and a final toast added for celebration.
Music is most important for this kind of ceremony, because it endows charm, elegance and that particular refinement that rises only if the right atmosphere is created. Without music, the whole ceremony may pass by quickly and most of the joy will not be manifested. The most appropriate moments for music during the civil ceremony are the entrance of the couple, when the registrar is signed, at the end of the ceremony and as the couple take leave from the hall where the ceremony has been celebrated.
Since this is not a religious ceremony there are no restrictions to the kind of music that can be played, allowing for a greater possibilities. As a general rule, it is best not to try to imitate any religious kind of function, so strictly religious music is to be avoided. Any classical piece of music can be played, as well as film music or modern pieces.
La leggenda del pianista sull'oceano
Besame mucho
Lennon: Yesterday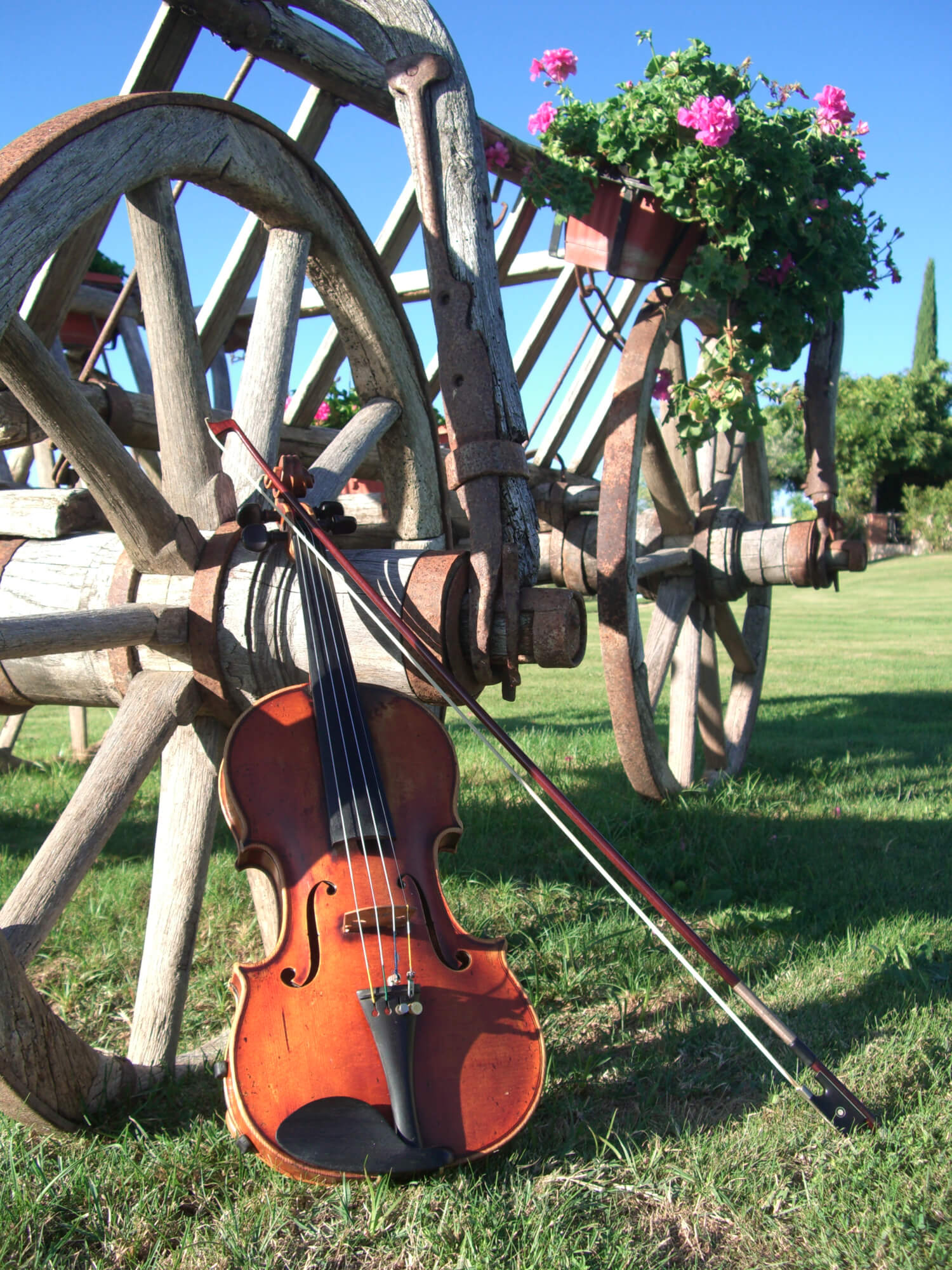 One important aspect to consider are all the 'Sensible Reasons' which we have written above. There might be many other wedding ceremonies taking place just before or after your own, so the Ensemble must be of the kind that is very quick getting ready and tidying up at the end.
The way sound is perceived in a town hall is quite different than in a church or a restaurant. For this reason, the music must not be too loud or interfere with any other things going on nearby. We believe that the best ensemble for this occasion is any string ensemble, from the Duo to the Quartet, with or without a guitar or harp. This enables for the right sonority, keeping though an extensive choice of repertoire and creating the magic for the moment.
Lately it has become common to have a jazz ensemble at this type of ceremony. Even for this kind of music we believe that a small ensemble is most appropriate. The best instruments for this kind of music are the guitar, a singer, a double-bass and the violin. In this way, the volume is under control while a very professional level is guaranteed.
Classic songs for the Ceremony
R. Wagner "Marcia nuziale"- B.F. Mendelssohn "Marcia nuziale"- T. Albinoni "Adagio"- J. Arcadelt " Ave Maria"- J. S. Bach "Cantata 147"- J. S. Bach "Aria sulla quarta corda – Barber "Adagio"- Caccini "Ave Maria"- Charpentier "Preludio" da "Te Deum"- F. Chopin "Notturno in mib maggiore"- C. A. Franck "Panis angelicus"- M. Frisina "Magnificat" – C. Gounod "Ave Maria"- E.Grieg "Morning"- G. F. Haendel "Largo"- " G.F. Handel "Hallelujah" dal "Messia"- G.F. Handel "La Rejoussance- G.F.Handel "Hornpipe" da "Water music suite"- – B. Marcello "Adagio" dal Concerto per oboe – P. Mascagni "Intermezzo"- W. A. Mozart "Ave verum"- R. Ortolani "Fratello sole, sorella luna" – J. Pachelbel "Canone"- C. Saint-Saëns "Il cigno"- F.Schubert "Ave Maria"- R. Schumann "Traumerei"- E.Satie "Gymnopedie" – G.Tartini "Cantabile"- G.P. Telemann "Marsch"- A. Vivaldi "Largo" dall' "Inverno", Medley colonne sonore.

REQUEST A FREE TRIAL
Meet us to let you drive!
From the start, Note a Nozze was born with a certainty: our events would need to stand out because of the high artistic quality. Hence the idea to invite all the spouses who request it to come listen to us, to get to know us and appreciate what we do to understand together the most fitting repertoire for every occasion. All of this with no obligation and at no added cost.