Special Receptions in Tuscany
Musicians Wedding Reception – Choose the training that best suits your needs – From duo to small orchestra!

Choose only professional musicians for your wedding!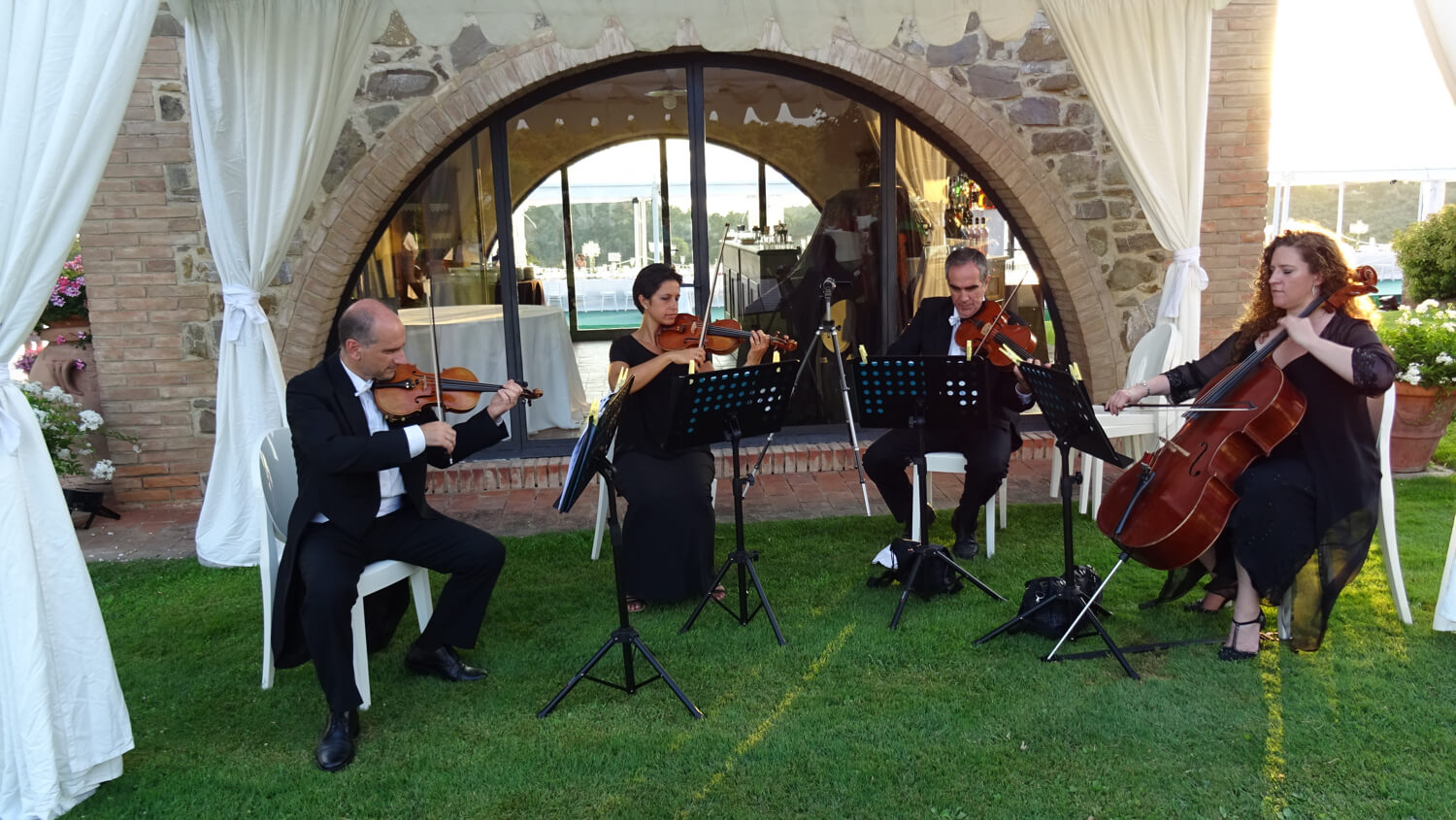 After the emotion of the ceremony, this is a moment of relaxation. It is a crucial moment to communicate with the guests. This though is something that can be very difficult, because there might be many guests, and many other things to do besides. For this reason, music tends to let everyone understand what this special moment means for you. Music allows a number of sensations to come to light and these will be the main feature through which most people will remember your wedding.
The kind of atmosphere that you wish to create is the leading key to choosing which kind of music is most appropriate for your reception. Would you like something elegant and refined, or something entertaining and amusing? Or better, why not have both but at different moments? Any kind of music can be considered, and therefore just about every piece of music can be played. Then the right music group is then chosen to play the right type of music.
Even for the reception, there are different moments when music is most appropriate. Therefore, music can make these moments special, or it may emphasize every moment of the day.
These are some of the moments during the reception when music is appropriate: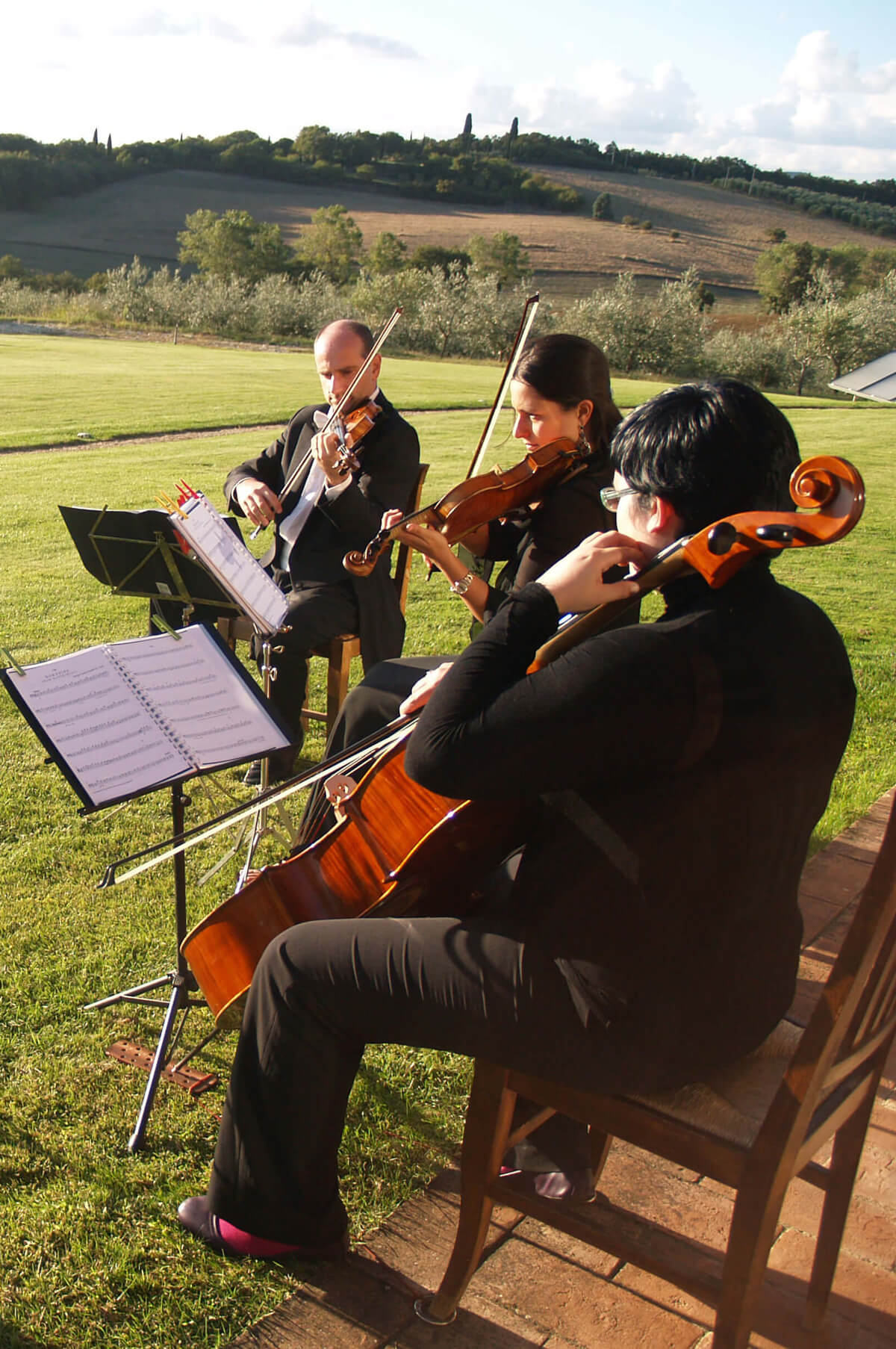 COCKTAIL
Before the Couple Arrives:
Music here is a background that, while it creates the right atmosphere and any kind of music can be chosen, it does not interfere with conversation.
When the Couple Arrives:
this moment is emphasised by the Bridal March of by some piece that is particularly loved by the couple. Once the newly weds have arrived, custom is to have some photographs taken at the restaurant. The music's role on this occasion is to see that all the guests are entertained while they take their seats and wait for the wedding reception.
Wedding reception:
any ensemble will here play only between courses, so as to allow for pleasant conversation.
The cutting of the cake:
The festive moment will be underlined by a piece chosen by the spouses to turn it into an unforgettable moment.
Musicians Wedding Reception – Choose the training that best suits your needs – From duo to small orchestra!
As we've already said above, just about everything is possible at the reception. An only ensemble may play from the beginning to the end, or a number of different musicians might follow each other. It is best not to have too many musicians play together during the breakfast so as not to have too high a volume of music that might easily disturb. Freedom of expression may come afterwards, during the party. For the first part of the reception the Duo is most adaptable. It may be a violin-piano (or keyboard) duo, or a violin and guitar duo, for classical and pop music; a singer and a keyboard for blues or lyrical pieces; a guitar and a singer for jazz. Even a quartet can play just about everything, adding though the perfection, the harmonies, the musical range and the elegance that only this ensemble can offer.

REQUEST A FREE TRIAL
Meet us to let you drive!
From the start, Note a Nozze was born with a certainty: our events would need to stand out because of the high artistic quality. Hence the idea to invite all the spouses who request it to come listen to us, to get to know us and appreciate what we do to understand together the most fitting repertoire for every occasion. All of this with no obligation and at no added cost.